If you are searching for a perfect getaway to enjoy the beauty and tranquility of the Kenyan coast, you should consider staying at one of the best hotels in Kenya, PrideInn Paradise Beach Resort, Convention Centre & Spa. This five-star resort offers everything you need for a memorable and satisfying vacation, whether you are travelling alone, with your partner, with your family, or with your colleagues. In this article, we will tell you why PrideInn Paradise is one of the best hotels in Kenya in 2023, and what you can expect from this amazing destination.
Location
PrideInn Paradise is situated in the Shanzu Beach Area, 20 kms away from Mombasa town, and easily accessible by road or air. The resort boasts of a stunning view of the Indian Ocean and the well-manicured gardens that surround it. You can enjoy the breeze and the sound of the waves as you relax on the white sandy beach or take a dip in the crystal clear water. You can also explore the nearby attractions such as the historical Fort Jesus, which is a UNESCO World Heritage Site, the Mamba Village Crocodile Farm, where you can see over hundreds of crocodiles, or the Bamburi Nature Trail, where you can walk among butterflies, birds, and hippos.
Accommodation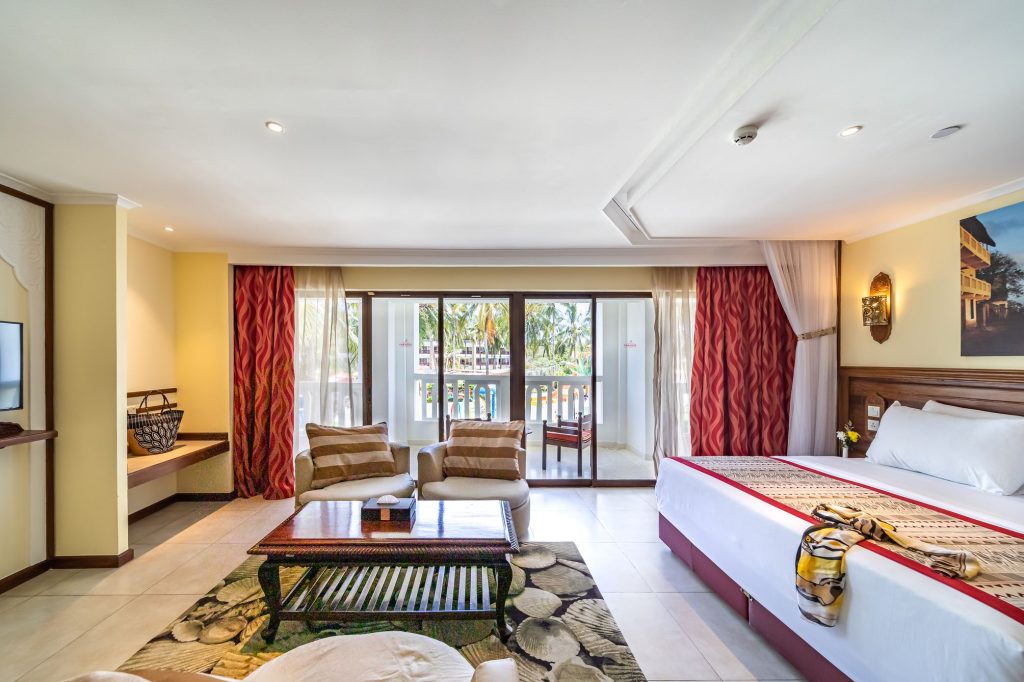 PrideInn Paradise offers a variety of rooms and suites to suit your preferences and budget. You can choose from standard rooms, deluxe rooms, executive rooms, family rooms, junior suites, or presidential suites, depending on your needs. All rooms are spacious and elegantly furnished, with features such as air conditioning, private balcony, flat-screen TV, room service, free Wi-Fi, and more. You can also enjoy the special offers and discounts for booking directly online through the hotel's website. For instance, you can get up to 20% off on your stay if you book at least 30 days in advance.
Conferencing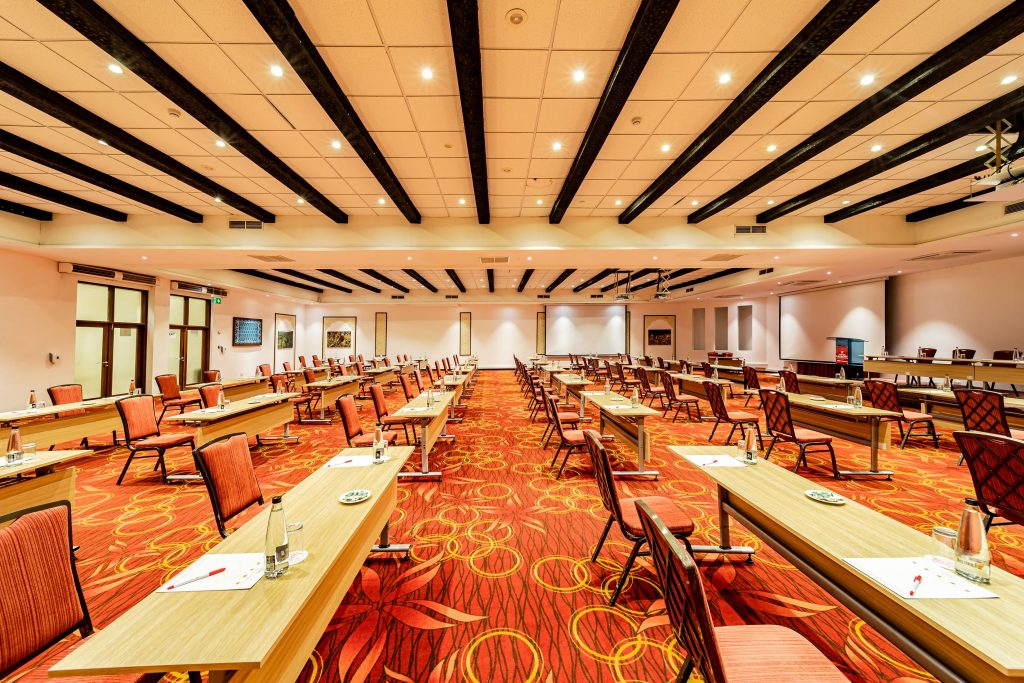 If you are looking for a venue to host your business or social events, PrideInn Paradise has you covered. The resort has Africa's largest convention centre, with state-of-the-art facilities and equipment for hosting various events such as meetings, seminars, workshops, exhibitions, etc. With its 14 meeting rooms with a capacity of up to 2500 delegates, and a flexibility to accommodate different seating arrangements, PrideInn Paradise boasts of the best conference facilities in Mombasa. The hotels also has a professional team of staff who will assist you with planning and executing your events successfully.
Dining
One of the highlights of staying at PrideInn Paradise is the culinary excellence that awaits you. You can savor some of the hotel's signature dishes such as the Swahili chicken curry, which is a spicy and aromatic dish made with coconut milk and spices, the grilled lobster, which is a succulent and juicy seafood delicacy served with garlic butter sauce, or the nyama choma platter, which is a selection of roasted meats served with kachumbari salad and ugali. You can also enjoy some of the refreshing beverages such as the passion fruit mojito, which is a tropical cocktail made with rum, lime juice, mint leaves, and passion fruit pulp, the dawa cocktail, which is a traditional Kenyan drink made with vodka, honey, lime juice, and crushed ice, or the PrideInn punch, which is a fruity mocktail made with pineapple juice, orange juice, grenadine syrup, and soda water. Each outlet has its own ambience and service quality that will make your dining experience unforgettable.
Events & Banqueting
PrideInn Paradise is also an ideal destination for celebrating your special occasions such as weddings, birthdays, anniversaries, etc. The resort has several venues and packages to suit your needs and preferences. You can choose from the beachfront lawn, which is a scenic and romantic setting for your outdoor ceremony or reception, the poolside terrace, which is a cozy and intimate space for your cocktail party or dinner, the ballroom, which is a spacious and elegant hall for your grand or formal event, or the rooftop garden, which is a unique and panoramic spot for your sunset or night event. You can also customize and personalize your event with options for decor, entertainment, catering, etc. The resort's event planners will help you create a memorable and successful event that will leave a lasting impression on your guests.
Lifestyle
PrideInn Paradise is more than just a hotel; it is a lifestyle destination that caters to guests of all ages and interests. The resort has a range of activities and facilities that will keep you entertained and relaxed throughout your stay. You can enjoy the first and only family Aqua Park in Mombasa, with water slides, splash pools, lazy river, etc. You can also indulge in other attractions such as the outdoor swimming pool, which has a swim-up bar and a jacuzzi, the fitness center, which has a gym,  the Bamboo Spa, which offers a variety of massages and treatments, the kids club, which has a playground, a games room, and a babysitting service, etc. You can also visit some of the nearby places such as City Mall, which is shopping mall with a variety of stores and restaurants, Haller Park and Nguuni Nature Sanctuary.
Water Sports
The aqua park at PrideInn Paradise stands as an extraordinary gem within this renowned Kenyan resort, setting it apart as a destination of unparalleled allure. With the distinction of being the largest of its kind in the coastal region, this aqua park beckons visitors from all walks of life to indulge in its aquatic wonders. What truly distinguishes this aquatic wonderland is its universal appeal, thoughtfully designed to accommodate individuals of all age brackets, fostering cherished moments for families as children revel in the company of their parents. Here, the water sports experiences offer a tapestry of excitement and adventure, cementing PrideInn Paradise's reputation as one of the best hotels in Kenya.
Conclusion
Evidently, PrideInn Paradise Beach Resort, Convention Centre & Spa stands out as one of Kenya's premier hotels in 2023, delivering unparalleled luxury and excellence in every dimension. Whether you seek a romantic retreat, a family escape, a business destination, or a venue for social events, PrideInn Paradise caters to all. Book your stay today and enjoy a world-class experience at this amazing resort. Visit our website to learn more about PrideInn Paradise Beach Resort, Convention Centre & Spa.